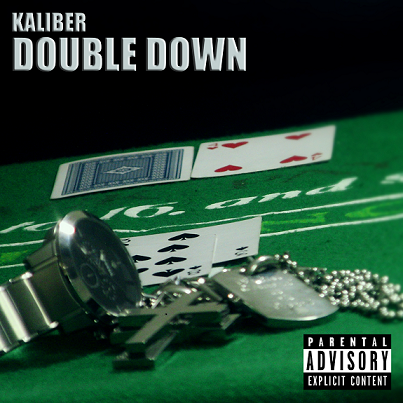 Double Down: The Album Breakdown
Artist: Kaliber
Album: Double Down
Release Date: 4/24/2015
I was inspired to do this album breakdown by a friend of mine who I had given an early copy of the album too. He had checked it out and the next day had been telling me about his favorite tracks and was asking me questions about different songs so I thought it would be cool to break down each track and document it in an article for anyone else that might be interested. Also, I decided to write more about how each song came to be and the inspiration behind it, rather than the content of the song itself. I figured I could leave the content to each persons interpretation as they're listening to the music on their own. So anyways, here we go!
Album Title: Double Down
I came up with the concept for "Double Down" a while back.....probably around 2010 or so. I know it seems like its long overdue or that there's a huge gap in between projects with the album barely now coming out in 2015, but the process had encountered several delays and setbacks because of what was going on around or outside the project itself. For me as a solo artist, I've released 3 albums within a 10 year time frame. I know that may not seem like a lot, but there are a ton of other factors that contributed to that discrepency. Between 2005 and 2015, my focus was to stay as busy as possible with the BKE brand. We released 2 group albums (Cold County, Tunnel Vision), 2 group mixtapes (Walkin The Walk Vol. 1 and 2), individual mixtapes (So Eazzy, No Refunds, Highlife Vol. 1, U Aint Nobuddy) and albums for solo artists within the group (Drastik Measures, Highlife, The Wrap, Diamond In The Rough). Not to mention a slew of music videos and performances at venues all over Orange County. So even though on paper, there are pretty wide gaps in between my solo album releases, that's not to say that we weren't staying busy as a brand and a label. "Double Down" was originally suppose to be a double CD but I ended up using a bunch of songs for the other projects that we had been working on at the time like our group EP "Cold County" and C-Sharp's "Highlife Mixtape" so ultimately my album ended up becoming a 12 track LP.
1. Win Me Somthin' (Intro)
I like to create themes around my albums and I didn't want "Double Down" to be any different. Doubling down is a gamble that you can make in the game of Black Jack to double your bet when the dealer has the least possibe chance of winning. Music and the risks you take when creating music can sometimes be a gamble. So in the middle of a winning streak, over the course of a few weeks that I was going through at San Manuel Indian Casino, I decided to whip out my iphone and record some audio while I jumped around on the slot machines. And from there, the intro to my album was born. Lol
2. Double Down ft. Tee Haze and C-Sharp (Produced by Double A)
In following theme, I decided to have a title track for the album. I was listening to a lot of B.O.B. when I wrote this song so if you notice, the verse, hook, and bounce of the song kind of resemble a B.O.B. anthem. The song was produced by my brother Double A and I remember stashing the beat for months before I finally used it. I wrote and recorded the hook in probably 30 mins, laid my verse, and took the mixdown to a recording session that I had at my boy Traksmiths spot a few weeks later. Traksmith (who is the in-house producer for Orange County's Strollin Wrekless) had been helping us put together songs for our group album "Tunnel Vision". But while we were in the middle of that, I had my boy Terrell (Tee Haze), listen to my verse and hook from Double Down on my laptop and he was lovin it so I had him quickly lay a verse for it. I took the vocals home, mixed 'em, added C-Sharps vocals a few weeks later and thats how Double Down came to be. I thought it was a cool way to open up the album.
3. Perfect View ft. Juan Rios, Tee Haze, and C-Sharp (Produced by Rikanatti)
"Perfect View" is one of my favorite songs from the album. The vibe it puts out is just superb to me. I had reached out to platinum selling producer Rikanatti (which I had worked with on a few of former Shady Records artist Cashis' records/videos) looking for some beats. He sent me over a zip folder with about 10 instrumentals (some with hooks, some without) ranging in sound depending on the vibe I was looking for. I came across the "Perfect View" beat and was instantly drawn to it. There was a hook on it that sounded something like Adam Levigne from "Maroon 5" to me. Come to find out over the phone that it was Juan Rios from the band Seedless. I had worked with Juan not too long before on "The Homie" video with him and Cashis, so for me it was a nice surprise! Almost instantly, once I had the beat, I had started recording to it. Tee Haze also laid his verse to it when we were at the "Tunnel Vision" session at Traksmith's and in similar fashion, I had Sharp lay his verse at a session at his house not too long after that. The song ultimately was shared between BKE's "Tunnel Vision" and my album "Double Down".
4. Crazy ft. Cashis and C-Sharp (Produced by Double A)
"Crazy" was like my baby. It was a song that I literally molded from scratch and had envisioned long before it was ever created. I was looking to make my next big single so for me it was going to be a record that I was 1000% committed to and invested in. When it came to "Crazy", it was going to sound, look, and be promoted the way that I wanted and I pretty much wasn't going to have it any other way. I can be pretty stubborn like that lol. My brother had sent me a few beats and Crazy stuck out to me because it was something that sounded like it could be on the radio. It was simple but catchy. I laid my hook and verse and had C-Sharp lay his verse later that week. I reached out to Cashis and told him my plan to put out my "next big record" and that I had plans to shoot a video to it as well. He was on board and we eventually released it as an iTunes single on July 14th 2013 (or "714 Day" as we like to call it in Orange County). Even though I had been shooting and directing videos at the time, I really wanted to reach out to someone else to take on that particular responsibility for the song. I really wanted to be able to just focus on my part, as an artist, and leave the visuals to someone else that would be able to devote their 100% undivided attention to it. As a director myself, I remember seeing local videos directed by this dude VKEditing and thinking "WOW, this guy is SUPER DOPE." And for me, I'm a pretty picky guy so to be able to think that and trust someone else with my "baby" essentially was saying a lot at the time. I reached out to VK Editing (Victor Klaus) through his website and we booked the gig. Although Victor had shot and edited the video, again, I had envisioned it long before we ever filmed it. I knew how I wanted it to look and I essentially put the storyline together to fit that vision. Victor and I worked extremely well together. We are both perfectionists and even though it may seem like that could have been a recipe for disaster, it actually worked out brilliantly in our favor. You could sense that in our "Behind The Scenes" video for the making of Crazy on youtube. Whatever he said, I pretty much rolled with it and vice versa, so long as it didnt compromise the overall vision of the song and video. I think everything came out dope and I was happy with the end result! You can check out the video below!
5. Hard Out Here ft. Double A (Produced by Double A)
"That beat though!". I remember thinking that the first time my brother had played me the instrumental. Most of the time my brother just emails me beats and I check them out on my PC or laptop (which can sometimes be an injustice) but this time was different. I had stopped by his house and he had been working on some beats, so his speakers were on full blast, sub was to the max, and once I heard it, I had to have it! The guitar and baseline were so catchy to me and the song was dark so I couldnt wait to start writing to it. It more so fit the theme to our group album "Cold County" (which had a darker feel to it) so we ended up using it for that project but it was originally suppose to be for my next solo album and since it was a favorite of mine, I ended up using it on Double Down as well.
6. All Night ft. S.C. and Noah Jones (Produced by Fade)
"I'm fuckin bored out of my mind. Whoever's not here right now is lucky". Words of wisdom from my boy S.C. lol. Although he was never one to hold back how he was feeling when we were kickin it, we were pretty damn productive when cooking up music. Fresh off of our videoshoot for K.E's "You Make Me Feel", (literally that same night), we started working on "All Night". I remember playing beats for S.C. and he would just bob his head in silence for like 4-5 minutes and then he would start singing these melodies off the top of his head. No pen, no pad, no nothing. I always thought that was dope and thats ultimately how the hook to "All Night" came to be. I always felt it was a natural process when recording with S.C. He would record about 5 to 6 different vocal tracks and when I was mixing them down, they always seemed to blend and fit perfectly together. It always made my job as an engineer much easier. He always wanted me to add autotune to his vocals lol but it wasn't ever needed. So after laying his verse and hook, I did my verse about a week later and then I sent the mixdown to Noah Jones. Noah was an artist reppin O.C. and was a respected vet whose work ethic was virtually unmatched at the time. We had done some work with him in the past and I thought it'd be dope to get him on the record. Once I had sent him the song he had sent it back with his verse on it within the hour! It was CRAZY how fast he had completed it but that's one of the reasons why Noahs work ethic was on a whole different level. He was efficient. The beat was produced by Fade who I met through a group that I worked with back in the day by the name of MSO. Fade sent me a few beats but this one just had that radio feel to it and I really think "All Night" is going to be one of the more popular tracks on the album.
7. Rewind ft. Nojack (Produced by Rikanatti and Cin-a-matik)
The beat to Rewind was one of the beats in the folder sent to me by Rikanatti. It's co-produced by Bogish Brand's Cin-a-matik. Aside from being a dope beat, one of the reasons I chose to use that beat in particular is because I could hear myself rapping fast on it. It had that tempo to it. Every now and then I like to record songs where I can do that because I feel like it shows versatility and dammit its just fun to do! I'm a fan of Twista and Bone Thuggs and I've always liked that style so I decided to roll with it on this track. I hit up my boy Nojack to be on the track as well, because to my knowledge, he was the only artist in Orange County that was using the "rapid flow" style, and I had directed music videos for him in the past so the feature in my mind was long overdue. He was another artist that sent me his vocals back pretty quickly. I think within a day or two if I remember correctly so that was dope.
8. Had Enough ft. Double A and Chubbs Sinatra (Produced by Traksmith) Messing around on the keyboard, Traksmith asks "What kind of beat are you looking for Kali?" I knew right then this guy was going to make a beat for me right there on the spot. And he sure did. My history with Traksmith goes back a long way. With the exception of my very first album, Traksmith has had a hand in production in almost every single project that BKE has ever put out. That's actually a stat that I've just realized as I'm writing this. And I say that because I don't think it's ever something that I've given much thought to. I'm never like "Oh it's time to drop an album, better call up Traksmith!" It's never been like that at all. We just always seem to find ourselves in the studio together. I've always enjoyed working with Traksmith because I feel like our brains are very similar when it comes to creating music. He's an artist at the end of the day just like myself so it's an easy, natural work relationship. His crew Strollin Wreckless and our crew BKE have been working together from pretty much Day 1. So working on "Had Enough" was just another day in the office. I had come over to his in-home studio by myself (which is pretty rare but I think ended up setting the tone) to work on some music. Nothing specific, nothing planned really, just wanted to create. He came up with a melody on the keyboard and before he even started laying down the drums, I was already writing. I knew that I was going to be writing on a more personal level because of the mood of the song and I liked that. Anytime I get the opportunity to connect with people on a personal level, its pretty cool to me. So I wrote and recorded my verse there at his place and then had my brother return the following week to lay his verse and then we ended up recording Chubbs' hook and verse at my house a few weeks after that. I actually struggled to come up with a hook for the song because I felt so invested in it due to its personal nature. I remember being indicisive about whether I wanted to rap a hook or "sing" a hook since the instrumental was more melodic. I had wrote and recorded a few different hooks and out of frustration, scratched them all. It wasn't until Chubbs came over one day and was like "I think it should go like this....". And at that point I was just like "Alright fine, you win!" lol. So I thank him for saving me from my own madness! The song originally ended up on our group album "Tunnel Vision" but again, was one of my favorite tracks that I orignally had planned for my album so that's why it's also ended up on "Double Down".
9. Envious ft. K.E. (Produced by Spit Fyre)
Envious was a song that was actually recorded a while back. It's definitely one of those vault tracks lol. It was probably 2010 or so and features former BKE member K.E. It's produced by Spit Fyre (who use to go by the name Young Thug, hence the shoutout in between verses). I remember working on the song and thinking about the competitiveness that K.E. and I had. This was another one of those "rapid flow", Speedy Gonzales type tracks and I remember thinking to myself "Is K.E. going to be able to rap fast?". Cause at that point, I had NO CLUE if K.E. could rap fast or not. Never heard him do it before. You as the reader might think "How hard could it be?". If you can rap at a normal pace, you should be able to rap at a faster pace right? Not exactly. There's actually a tad bit of a science to it. When you're writing a verse for a song that you're going to rap fast on, it almost feels like you're writing 32 bars instead of the traditional 16 bars because you're having to cram a whole lot more words and syllables into the same time frame. And they can't just be any words. When you're rapping that fast, it's easy to get tounge tied so you have to be very careful and stretegic when choosing your words so that the syllables flow well and you're not spending 47 hours recording 1 verse because of mess ups and retakes. Oh and don't forget to stay on topic! But when all was said and done, K.E. knocked out his verse in like 1 or 2 tries, discarded the paper that he wrote his verse on, and exited the room as if to say "Damn I'm good!". I must say.....I was pretty impressed lol.
10. Too Long ft. K-City (Produced by Double A)
I think I was going over to K-City's house to clear a damn virus off his computer when we made "Too Long" lol. This guy was always having computer problems, and since I was the local geek squad and he was Strollin Wreck family, I was always down to help out. Once that was taken care of, we decided to try out his new set up. He had just put together his own little in-home studio with Pro-Tools and a brand new Mic and we wanted to test it out. I had some beats produced by my brother on my ipod that I was considering using and City was feeling one of 'em. So we loaded up the instrumental, tracked eachother, and came up with "Too Long". I remember thinking that I was going to want to spend some time mixing the song down (as I usually do) because I had really liked the way it sounded after we had recorded it. So I bounced all the .WAV's, took them home with me and did all the mixing at home myself.
11. Get It Done ft. Spit Fyre (Produced by Spit Fyre)
"Get It Done" was produced by Spit Fyre who also produced "Envious" (from above). I want to say that I first met Spit Fyre on Myspace and at the time he was going by the name Young Thug. He was just one of those dudes out in Orange County on his grind and had reached out to me to work on some music. Funny Story: The first time I ever met this guy, he invited me out to his apartment in Anaheim to record. At the time, I really didn't think much of it. I was just trying to network and record and build relationships with people throughout the county. But picture this, you got this guy named "Young Thug", that you've never met before, who you've just met on myspace, who wants you to come out to his apartment in Anaheim. At Night. And we're not talking Disneyland Anaheim either. Would you go? No? Well I did. I Lived in Santa Ana at the time. What's the worst that could happen right? Well this guy literally lived IN THE HOOD. I had Buddy P with me and when we pulled into this guys neighborhood, people were definitely looking at my vehicle like "who are these guys?" Buddy looked at me and jokingly said "We're going to get shot". Lol it probably could have happened that night but thankfully it didn't. Young Thug welcomed us into his place and we worked on some music (a second session would later lead to us making "Get It Done") and ended up developing a pretty cool relationship. We ended up working on a couple tracks together, we've played basketball together......he even designed the cover to my brothers album "Meeting of the Minds". Thats a cool dude right there and I'm appreciative of his contributions to my album.
12. If I Knew Then (Produced by Double A) I wanted to close my album out with something a little more personal. I tend to do that on my albums. "If I Knew Then" is a song about reflection. I'm basically reflecting on the years that I've worked on music. The ups, the downs, the naivety of certain situations, and how I may have done things differently had I been equipped with the knowledge I have as an artist today. Sometimes I wonder how some of these artists deal with situations when they blow up young and get signed at an early age. I mean sometimes they get signed as teenagers! Being an indie artist for the last 10 years has taught me a lot about music, the industry, myself, my friends, my family and I'm thankful that I got to go through all of it on an independent level because I don't know how I may have handled certain situations if I was in the spotlight or under the microscope. Poor decisions could have potentially left me worse off or more in debt then when I originally started. Even now sometimes I'll see major label artists or groups that go through things and I'll be like "Dang, I can relate to that....that's pretty much the same thing that I went through" as an artist or with my group. Like the whole G-Unit thing for example. G-Unit has changed and evolved so much in the past 12 years. They've gone through members, switched up members, fallen apart, rebuilt their brand.....and they did all that in the spotlight, as signed artists, in their 20's you know? Our group BKE, from a structural standpoint, had essentially gone through the exact same thing, at the same age, just on an independent level. Fortunately for G-Unit they were able to hold strong, rebuild, and have successful careers as solo artists and as a group. Not everyone is that lucky though and who knows how we would have handled the same situation as major label artists. It's just stuff that I ponder on and that was ultimately the direction I was trying to go with on this song. The beat is produced by my brother and some people may wonder what the deal is with the audio clips I used in between verses as they may seem kind of random. But I basically picked out some clips from videos that we had done just to kind of tie in with the theme of reflection and experiences I had been through over the years. So that's that. I dig the song and I think it will end up being one of the favorites on the album.
In closing, I want to thank everyone for their support and for reading this article. Hopefully you were able to connect with one of these stories because at the end of the day that's my goal as an artist and if I've done this then my job has been done. My album "Double Down" is being distributed to over 90+ different digital outlets worldwide so you can easily listen/download it on iTunes, Google Play, Spotify, Amazon, and more! Again thank you and I hope you like the album! Please feel free to rate my album and/or leave your thoughts in the comments below!
iTunes Download: Kaliber - Double Down
Google Play Download: Kaliber - Double Down
Spotify Album Stream: Kaliber - Double Down